Located two hour from the historic Caribbean town of Port Limón and with enchanting views of the endless mountains of the Talamanca Range, the Veragua Rainforest Eco-Adventure allows visitors to explore the natural wonders of Costa Rica's breathtaking tropical rainforest.
Your ultimate nature experience will immediately begin as a professional naturalist guide walks with you through this amazing and educational experience.
Live a unique experience while walking through the cocoa jungle trail while learning about the history and science of the chocolate, you´ll enjoy a taste of the organic cocoa "Food of the gods". Accompanied by a naturalist guide you´ll see tropical flowers, and medicinal plants colored frogs, at the cocoa plantation.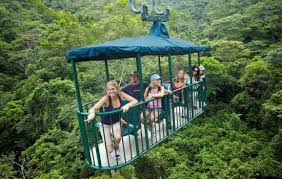 You will stroll along easily accessible trails to the tram. You will then enter an open-air gondola system that will take you through the primary rain forest past 300-year-old trees and down to the riverbank. You will then walk the Trail of the Giants, so named for the huge trees lining the riverbank or op to hike on the Puma Waterfall trail. Ride the tram to the top station and visit the biological research station.
After the tour this unique rainforest experience, continue the journey to the next destination: Tortuguero Canal. Board your covered boat for a 60-minute leisurely cruise through the jungle canals. Your guide explains the rain forest eco-system and points out sights of interest. Keep an eye out for wildlife including howler monkeys, many sloths, toucans, aquatic birds, bats and crocodiles as well as exotic flora.
After the boat tour, refresh yourself with a fresh plate of tropical fruits before the return to the pier.
Pick up
In Port Limon Pier
Departure Time
8:00 AM after ship arrival REFUND POLICIES IF TOUR IS CANCELLED, COVID SITUATION OR SHIP MISS PORT*
If your ship arrives after 8:00 AM, the PickUp will be 9:00 AM or 30 minutes after ship arrival. You can book your tour and we will adjust the time
Time 6 hours
Return Time
By 2:00 PM
What to Bring
Comfortable shoes, Camera, Rain Gear, Insect Repellent, Comfortable Clothes, Sun-scream, Sun Hat, Sunglasses, Money for personal expenses. suggest to bring alcohol in gel for prevent Covid-19